Episodes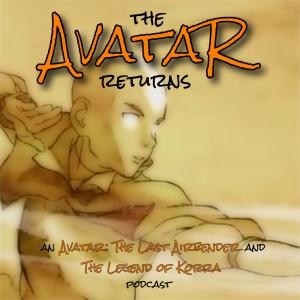 Wednesday May 03, 2017
Wednesday May 03, 2017
The secret is out! The truth about all of the crazy breaks and pauses and hiatuses The Avatar Returns has endured over the past year-and-a-half can finally be revealed. The truth is…we didn't want this to end. But end it has, and we must fight our way through the heartache and the pain to discuss, one last time, these final chapters of The Legend of Korra. Chapter 412, "Day of the Colossus" sees all our gathered heroes marshaling what resistance they can against Kuvira's Platinum Gundam of Spirity Death. There's a marriage proposal; Hayao Miyazaki makes a surprise (if short) return; and Meelo bends with something other than his butt. And then in chapter 413, appropriately titled "The Last Stand," Bolin throws a building at Kuvira; Mako bends his shirt off; and Korra and Kuvira have possibly the most viscerally satisfying battle in the history of the series. Plus that marriage proposal leads to an actual wedding, and our beloved Avatar indulges in some very significant hand-holding.
And now, at the end of all things, we finally, FINALLY try and give the extraordinary series composer Jeremy Zuckerman his due. (In case we don't make it clear in the episode, he is one of the most amazing and criminally under appreciated composers working.)
Next: the shows are over but you still get one more podcast from us. Join us as we laugh, cry, and probably drink our way through a look back on the long, strange journey we've taken through these amazing shows. There could be games; we might try and stump each other with pop quizzes; it's almost guaranteed we'll argue over "Imprisoned" or "The Swamp" again. You're all invited to The Great TARP Wrap Party!
Intro / Banter (00:00 - 07:00)

Main Topic (07:00 - 1:40:35)

Outro / Next (1:40:35 - 1:45:40)